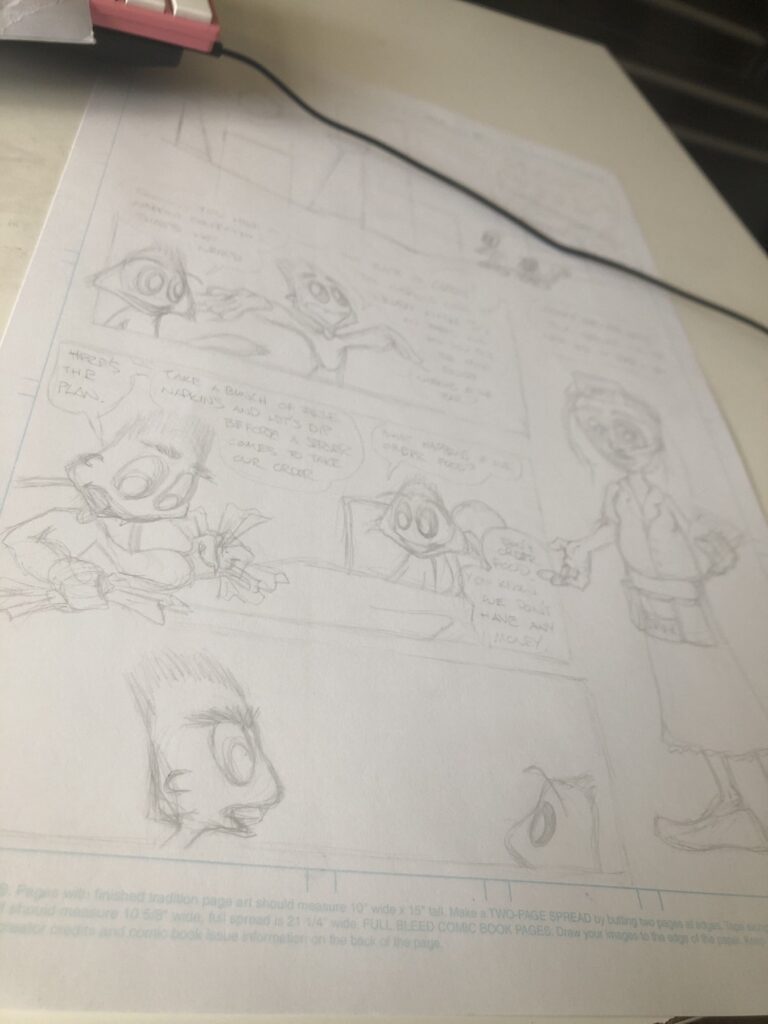 It's my first issue of Monster Chompster!!! I created Chompie years ago when I was in college as the main character of a comic strip. I think I drew maybe 20 three-panel strips, and IIRC, like 4 of them were actually printed in the University newspaper (I have a few copies of the papers somewhere). Most of the time that I spent "creating" the character was devoted to building my website, writing up character bios, drawing desktop wallpapers, etc. I talked more about what I planned to do instead of actually doing it.
This time around, I'm doing things differently. So far, I have 5 pages penciled, and the rest of the issue is plotted and more or less scripted. Being that I'm going with a full-on cartoon style, the actual drawing is very fast. The much larger barrier is the emotional resistance that I have. For some reason, I have to push myself to draw each panel. I suspect that maybe it's because I've wanted to see this project done for so long, that I'm terrified of seeing it realized, and that the final product will be less than what I was hoping for. Or that people won't enjoy it as much as I've enjoyed it in my own head. I don't know.
The important thing though, is that I'm doing it. Even if it's slowly progress, at some point I'm expecting to break through the psychological barrier, and will be able to throw down pencils speedily. I've got three stories written so far, and my pencils are the biggest barrier to sharing them.